Art exhibits can exercise your artistic vision, sometimes in an unexpected way.
Let's take a look. Here's the scene at a typical art opening:
Your Artistic View
Although the above sketch describes an art opening, most art collections offer an opportunity to observe contrasting styles. When a painting has great focus, catchy colors, and strong design, placing it among lesser works amplifies its attraction.
This dynamic of natural comparison makes every art collection your classroom.
Now you have a mission when you see a gallery — find the star of the show. Each time your artistic eye will get better.
Scan and Select
Make your first pass through gallery quickly. Scan the paintings for the pieces that touch you. If you're lucky, one will stir a feeling that shouts, "Wow." You may feel a catch in your throat, or a slight blush moving up your neck.
After the first pass, make your way back to the pieces that reached out to you. Let them pull you in; let them work their magic.
With those sensations, it's best to leave before the other work pulls you back to a more mundane view.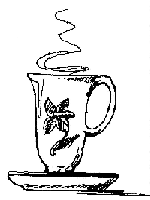 At the Coffee Shop
Your next stop is the coffee shop.
If the proliferation of coffee shops has any saving value, it's their ability to help you savor what you've just seen. A quiet cafe is the perfect art appreciation stop. No design analysis, no breaking down the elements. Not now. Just enjoy your connection with the artist.
Not About Brushes
At this point, don't get distracted by your own artistic skills.
If you don't draw, or can't handle a brush, don't worry. You can always pick up basic drawing techniques. Remember, artistic talent is about seeing the patterns that pull you to a painting — those interactions of shapes and colors that catch the eye and won't let go.
When you start grasping the underlying majesty in everyday images, you're closer to Van Gogh than you may realize.
Daily Training
Whether you're a novice or a seasoned professional, the ability to find the essence in a scene is critical. Give this exercise a try.
Once artistic discovery becomes part of your routine, you'll find dozens of viewing opportunities. Sometimes a traditional gallery will provide the images, other times it may be the corner flower stand.
Comments:
You'll be surprised at what you start surfacing. It may be that you notice the "don't bother me" gesture of the dog; it may be the sharp contrasts of the birch trees; or it may be the elegant lines of pears in a bowl. Start trusting what you notice.
Is that enough?
It's more than enough. If you can uncover a scene's essence, that's a huge step towards stirring the artist in you.
Is it really enough?
Yes.
Well...if you want to deepen your insight, you need to try your own sketches.
By creating your own drawings, you'll start seeing the grace in a figure's gesture; you'll start noticing the hidden mystery of the shadows. With just a few pencil strokes, you'll be activating a physical connection to your artistic vision.
One Last Thing
This might be the most important of all.
Your art explorations may generate more than insight. It may uncover your hidden talent for capturing an artistic view. You might not be able to draw right now, but by adding a few sketching exercises to your artistic vision, you might surface a genuine talent.
Even if your talent takes years to unfold — what a lark.
What's Next?
First, don't forget what you have learned. Being able to spot a painting's focus is huge. Continue with your art sightings.
The next section talks about the giant step every potential artist must take. (Hint: It involves a pencil and paper.)
Additional Reading
The New Drawing on the Right Side of the Brain by Betty Edwards. J. P. Tarcher, 1999.
* Offers a variety of ways to "see" a scene. There's a lot here. Skim through and see what makes sense for you.

Painting Watercolors by Cathy Johnson. North Light Books, 1995.
* Sometimes you just want to get started. I can understand that. Ms. Johnson provides an exceptional guide to watercolor basics. She'll have you mixing colors and sketching scenes in no time at all. Good discussion of papers and brushes.

An Introduction to Watercolor by Ray Smith. Dorling Kindersley, 1993.
* Covers the "getting started" topics and gently introduces more advanced topics, i.e., resist (masking) techniques.

Watercolor by Barron's. Barron's Educational Series, 1996.
* The Barron's people are incredibility organized. They break out tools by function and personal preference. Although their instructional sections are brief, they act as a map to the many aspects of watercolor painting.

Plein Air Painters of California — The North by Ruth Lilly Westphal (Editor). Westphal Publishing, 1986.
* These paintings inspire me with their sense of place. Physically, they create a flashback to Santa Barbara. I can smell the eucalyptus trees and feel the breeze off the Pacific.

Emotionally, the book's history of California art connects me to the past in a way that individual biographies miss. The early struggles of American art associations seem tied to last Tuesday's art association board meeting. It touches something personal.
Hard to Find Books
Most books can be ordered through Amazon.com by clicking on the book's title link. If the book is not available or out-of-print, Amazon.com and Barnes and Noble list vendors with used copies.
---
| AWSS Main | Next Section | Feedback: Patricia Bason