Modeling translates complex situations into pictures. The visual nature of seeing the items on paper allows you to use your visual analysis abilities. As humans, surveying a scene or studying a representational map is a part of our survival skills.
Having items represented as figures is in itself a simplification. If written out in full, a single summary box might need two pages of text in explanation. And, as one of your standard overload strategies, putting it down on paper gets it out of your head.
The Seven and Three Rule
When you first sketch out the elements of a particular issue, itís best to be free flowing, something like brainstorming. Get the ideas flushed out.
Before moving to any analysis or consideration of issues, you need to structure the model so that the mind can process the information. At the crudest level, this means consolidating items into groups of seven or less. The concept of a natural overload at greater than groups of seven surfaced in the fifties and has had impressive results with information recall. (G.A. Miller, "The Magic Number Seven, plus or minus two. Some limits on our capacity for processing information." Psychological Review, 1956, 63, 81-96.)
When you exceed the number of items/issues your mind can consider, there is no gradual drop off in efficiency. Mental overload stops your thinking process. It drops to zero. You literally go blank. Most people resume thinking pretty quickly, but at that point the mind is struggling. Itís trying to regroup and consolidate the items into a configuration that gets it out of overload. Sometimes it will recover, other times it wonít.
The Three Rule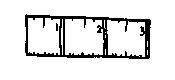 If your groupings require decision making, they need to be further consolidated into groups of three or less. Groups of seven are fine for to-do lists and straight recall, but for the mind to actively manipulate issues, it needs them in groupings of three. Since each element of three can expand into its own sub-group, this breakout can still handle a good range of complexity.
The distinction between when seven is okay and when three is needed is not always clear. It depends on how you are considering the items.
The distinction between three and seven groups is subtle, but the results are not. The right groupings allow you to think clearly; the wrong groupings slow you down. You will notice the difference instantly.
Modern Rule Breakers
Several modern theorists, of whom Edward Tufte is good example, use eye catching graphics to reduce complexity into a one page representation. They have the ability reduce a war or a stack of statistics down to several images, often enabling you to grasp the situation at a glance.
These models work best when the key graphics fall within the Seven and Three Rule.
The mind absorbs three graphic images easily.
There are times, however, when the modern modeling theorists break the rules and get away with it. Let's say they represent three types of river flow as three cloud images on a page. So far, so good. Next, they fill the clouds with 15, 25, and 10 flow patterns. These clearly exceed the limits of the Seven and Three Rule, and as a result, you would shift into overload when you tried to learn the flow pattern details.
In these mixed cases, the benefits of the simple groupings are substantial and lasting. No one can read Tufte's books with having a more clear view of the European wars. If you must focus on the details within any of these sections, however, overload returns and comprehension suffers. Fortunately for the rule breakers, their point in the presentations is carried by the big picture and the simple graphics. Typically, their audience is not concerned with details at that point, and the model is successful.
Process Modeling
Where other forms of modeling are somewhat free form, process modeling consolidates actions around categories of activities. This form of collecting and categorizing smaller tasks is perfect for reducing overload.
One of Modelingís notable proponents, Edward Yourdon, suggests that collections of action are processes that interact and share information. Although Mr. Yourdon then used these structures for an introduction to Object-Oriented Design, graphically representing processes helps reduce overload.
The procedure for Process Modeling includes:
1. Listing.
The first step in consolidating overloaded activities is to list the elements. Put every action that comes to mind down on paper. Some like to use yellow stickíem sheets, as they are easy to move around; others put the list right into a PC.
2. Grouping.
Collect like items and group into similar categories.
3. Identifying each groupís process.
Next, analyze the groups for the heading that best captures that sectionís essence.
4. Connecting the processes.
Connecting the processes describes their relationship graphically. At a glance, it becomes possible to identify interactions and dependencies.
This example may be more simple than your operation. However, the same principles apply to complex operations. Representing processes graphically makes it easier to understand operations and solve problems.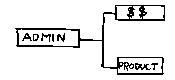 Presenting the Process Model
Customers love to talk about their business. The discussions, however, must be knowledgeable exchanges. Customers have had enough blank looks from non-technical sales people -- they want to talk nuts and bolts.
A Process Model is the perfect vehicle for that discussion. Within seconds, as the customer glances over the diagrams, the customers sees that you know their business. At that point you become an insider. No need for a slide show or brochures, you are one of them.
Technology environments are complex, and overload abounds. To have someone reduce that complexity is a most welcome gift.
Process Models change the way things appear. Seeing the sections and interactions on paper makes the gaps jump out. Repetitive functions become obvious. Models elicit clarity, and as such, they are a powerful tool against overload.
Additional Reading
Object-Oriented Analysis: Objects in Plain English by David Browne. Wiley, 1997.
Structured Design : Fundamentals of a Discipline of Computer Program and Systems Design by Edward Yourdon. Prentice Hall, 1986.
Object-Oriented Modeling and Design by James Rumbaugh et al. Prentice Hall, 1991.
Object-Oriented Information Systems, Planning and Implementation by David Taylor. Wiley, 1992.
Visual Explanations: Images and Quantities, Evidence and Narrative by Edward R. Tufte. Graphics Press, 1997.
---
Go to: | AWSS Main | Previous Chapter | Next Chapter | Feedback: jdavis@awss.com